Many things have happened since 2018 started, and this post has been a long time coming. Since renewing my passport last December, I've been on a travel stamp binge, starting with a trip to the Galapagos Islands in December 2017/January 2018 with my boyfriend Nathan and his awesome mom, Susan, who lovingly sponsored the entirety of this trip – first class seats and all <3.
SUMMARY: The Galapagos Islands is a biosphere and world all its own. Under the constant Equatorial sun, iguanas, seals, turtles, and flamingos flourish among the islands' many micro-climates. Wherever you are – from the chilly, foggy highlands to the dry, beautiful beaches less than a mile away – you feel like you are in another world. The area forces your head out of your phone (internet is very spotty) and toward nature and the streets of Puerto Ayora, which rely heavily on the tourism industry to keep afloat. At night, the streets open up with music, dancing, soccer, chatter, and FOOD available for anyone walking by.
DRESSING: When I first looked up what to pack, multiple pictures and lists detailing the following came up:
… most of which I did not already possess. Who already possesses safari pants? Do people really wear those sandal/shoe hybrids? And if I wore them, would my Pacific Islander ancestors point and laugh at my touristy ass?
Luckily, I found one (only one) blog from an intrepid traveler closer to my age, Courtney Scott, who insisted you don't need to dress like a tourist to be a tourist in the Galapagos.
Below are the clothes what I ended up bringing. What's bolded is what I ended up using:
Denim white shorts
Athletic shorts
Casual, multi-colored shorts
Black athletic capris
Tan lounge pants
Black thin pants
3/4 sleeve tan, breezy shirt
A thin, casual-dress shirt
White V-neck
Grey V-neck
Denim button-down
Sleeveless, blue shirt
Sleeveless, green shirt
Teva watershoes/flats
Hiking boots
Flip-flops
Athletic socks
Swimsuit 1
Swimsuit 2
Sports bra
Regular bra
Underwear (obviously)
EQUIPMENT that ended up being VERY useful:
Small, one-shouldered hikers backpack (that Nathan made fun of me for bringing)
A small, thin book – not just for reading, but to keep all the loose papers/tickets/pamphlets in place during travel
Sunglasses
100 SPF sunscreen
50 SPF facial (oil-free) sunscreen
Safari hat
Waterproof camera
Camera, floating camera stick
US cash – $1/$5/$10 bills specifically, which all locals take. Dollar coins are most popular
Buy lots of sunscreen before you leave: So, I thought my confident, Pacific-Islander-ass could handle the constant Equator sun. I was wrong. I ended up buying a large tube of over-priced ($35) 100 SPF sunscreen to protect my burnt chest and legs by the end of the first day. This move was the only reason I could wear shorts throughout the remaining part of the trip. I lathered up constantly, but it prevented any additional burn, and I ended up with a nice tan!
Good shoes: Ironically, I ended up not using my hiking boots at all, as all of our hikes were mild/moderate. I can't say enough about these Teva Hydro Life Sports Flats though, which were versatile enough to keep me comfortable across hiking trails, made for watery terrain, and chic enough to walk through city streets: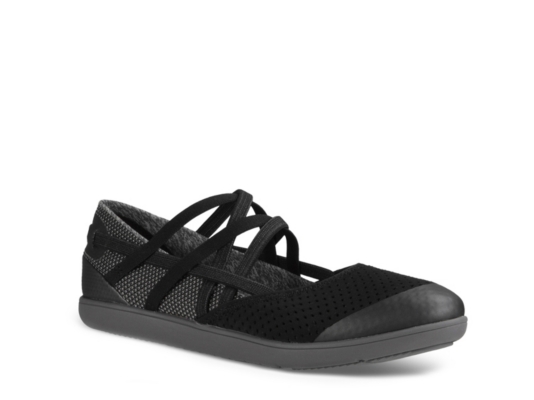 I'm beginning to realize the advantage of shoes that provide good support, not just ones that are cute and discounted but hurt like hell.
LOCATIONS
Day 1: Arrive in Balta. Travel to Santa Cruz Island and check-in at Puerto Ayora. Charles Darwin Research Station.
The Galapagos Airport is located on the old US military base on the small island of Balta, which is the driest, ugliest part of the Galapagos. Turns out that was intentional. All travelers are escorted by bus to the south edge of Balta, where a ferry waits to take you to the north edge of Santa Cruz Island. Once on Santa Cruz, you grab a taxi – small and white off-road trucks – to drive you across the island into Puerto Ayora – Galapagos' largest city. The whole experience takes about another hour of travel.
Luckily, if you managed your travel through an agency, there are guides waiting to accompany you every step of the way. Ours was Joel, who kept a lively conversation with us all afternoon. He came back once we were settled to guide us through the Charles Darwin Research Station, complete with Tortoise Breeding Center.
This slideshow requires JavaScript.
Afterward, we opted to walk through the streets of Puerto Ayora back to Hotel Albatros, which might be substandard compared to the Marriott but a luxury compared to the rest of the city. We had all-inclusive lunches and dinners, and cheerful receptionists. The hotel also had a beautiful panorama of the city.
Day 2: Catamaran. Snorkeling. Plazas Island.
This day started with a bus ride to a huge catamaran with 13 other people, followed by my first-ever snorkeling experience at the mouth of the Itabaca Channel between Balta and Santa Cruz islands. Fun story: I'd never snorkeled in my life, and instruction wasn't included in today's excursions. They gave us equipment, put us on a small boat toward a deep spot afar, and told us to jump off and swim back.
If it wasn't for Nathan warning me what it was going to feel like, I would have had a panic attack (someone else did though). Not being able to breathe through your nose is WEIRD. For the first five minutes of snorkeling, I was HEAVING while swimming next to the shore, trying to get used to breathing through my mouth, reminding myself everyone else was doing it fine, and trying not to panic when sea water got into my snorkel. Seeing beautiful schools of fish helped motivate me to keep going!  What didn't help was seeing a shark while by myself (which turned out to be harmless). That's when the panicking started. Yup. Too bad Nathan was the only one with the camera, or else my freak-out would've been recorded.
Afterward, the catamaran took us around toward South Plazas Island, where we took a short hike around a BEAUTIFUL panorama of natural color – the deep blue sea, the vegetation that turned bright red in December, and the vibrancy of the green cactus trees:
The locals were also fun to see too:
and the sheer drops of the cliffs on the other side of the island were BREATHTAKING:
After the hike, we were treated to a home-cooked lunch from the crew of the catamaran, where we also got to know the other tourists.
Day 3. Nauseating boatrides. Floreana Highlands. Snorkeling. Sea Turtles. Black and White Beaches.
This day was fully devoted to Floreana, a large island south of Santa Cruz. We accompanied a group of 13 other people on the Angelica for a day hiking atop the Highlands, lunch and then snorkeling along the coast.
To get to the island as fast as possible, the boat goes full speed and skips across choppy water, so your ass flies and then slams down constantly against your seat for 1.5 hours, making this ride the most miserable experience of the trip. Susan thankfully had Dramamine that I combined with a Tums, but holy hell I was nauseated. The Floreana Highlands were worth it though:
We had an awesome young guide named Astrid who told us of the islands' first settlers and history. She eventually led us to a beautiful beach on the Floreana Coast perfect for snorkeling, which was way more pleasurable this second go-around:
Of all my experiences, swimming with the sea turtles was probably the best part of the trip! On the return home, we tried sitting closer to the back of the boat. The sacrifice for a flatter ride were the strong fumes of gas and unforgiving afternoon sun that equaled the morning nausea. We were all grateful to be off the Angelica by the afternoon, and headed straight to a bar for a drink 🙂
Day 4. Puerto Ayora Highlands. Lava Tunnel. Tortoise Sanctuary. Puerto Ayora Nightlife.
This day was spent solely on the main island, where were we ventured around several geological phenomena in the morning, including a sinkhole and a high viewing point in the Puerto Ayora Highlands full of finches.
This slideshow requires JavaScript.
Most amazing to me this morning was the Lava Tunnel, which was a GORGEOUS underground, open passage. Easily my favorite part of the day, though accidentally stepping in a water pond in the tunnel didn't help…
Afterward, we visited another Tortoise Sanctuary with species specific to the West-side of the island, where we got up-close and personal with a few of them:
Another highlight was getting to know Adriana, our driver who spoke little English but was so upbeat and funny as hell, even when we got stuck in traffic for a marathon that blocked off the main road for an hour.
That night, I got to do what I'd wanted to do the whole trip, which was to walk among the nightlife of Puerto Ayora and get a taste of the local life. We went to a brewery, listened to live music, and walked through a community not obsessed with technology; everyone is outside, sitting in plastic chairs with friends, talking and laughing, having a beer, watching their kids play soccer, and dancing in the street merrily with strangers. I loved being a part of the local spirit, even for a little bit ❤
Day 5. Saying Goodbye. Delays. New Years Fiascos. Finally Home! 
The day we were supposed to leave, we snuck back to the Charles Darwin Research Station to observe the tortoises again, buy more souvenirs that 100% benefit the station, and see Lonely George – the last known male Pinta Island tortoise. Though he died a few years ago, he still remains an important symbol for what the research station does on a daily basis – conserve the dying beauty of this world.
Day 5.5/6. Of course, with the Galapagos such a wonderful experience, karma had to equalize somewhere. Sadly, the hour we landed in Quito Airport on the Ecuador mainland, problems began to arise – a 30-min 2-hour 13-hour 16-hour delay coupled with an inexperienced Delta flight team meant a GRUMPY introduction into 2018. We celebrated midnight getting ignored at an Outback Steakhouse while Susan was at the gate with our passports, and then finally a room in the heart of Quito, 40-minutes away from the airport, taken there by a drunken Taxi driver in rainy weather. Fuuuuuun.
After finally getting back into the States, we were greeted with a shut-down Customs in Atlanta Airport, which caused us to miss our connecting flight back to DFW, and another night stay in freezing Atlanta weather. I don't know about Nathan, but I was cheering internally when the plane finally landed in DFW more than a day after we were supposed to be home.
What transpired the next few days is a very long story all on its own, but I just want to end on how amazing the trip was. It was a stark reminder of the beauty of the world still untouched by human hands, and the responsibility we have to ensure its survival long after we're gone! ❤