The highlight of my summer (which given all my travel says something) was a month-long excursion away from San Diego into West Germany and Bavarian country.
The original purpose was to attend the First International Spring School on Resilience Research, a five-day workshop hosted by intresa, or the International Resilience Research Alliance, housing twelve universities in Europe. I found out later the workshop was an intresa networking workshop for postdocs and trainees. So how did I found about it? A chance conversation with Raffael Kalisch on ResearchGate after stumbling upon his theory paper in Nature Human Behaviour! LOLS 🙂 What was initially a five-day trip turned into a nearly three-week excursion, with the workshop capped before and after with visits to Dr. Kalisch's lab.
Whoever says that researchgate.net doesn't work
OBVIOUSLY didn't spark an international collaboration
and mentorship in a weekend!! #BOOYAH
It would be the longest time spent away for work – one entire month. I paid the big bucks to snag a premium economy seat and was so worth it: leg room, full meals, unlimited drinks and snacks.
Arrival
I arrived 9am in Frankfurt greeted by Ayline, the friend of a postdoc colleague I met here in UCSD (thanks Martin and Natalie!). She was so nice, and her son Benedict was adorable! 🙂 She had an entire trip already planned at Heidelberg Castle, one hour south of Frankfurt. It was absolutely surreal, knowing that in the span of three hours I'd gone from sitting in a cramped business compartment to overlooking the German countryside from this vantage point:
This slideshow requires JavaScript.
Ayline funded a tour of the castle – my first in Europe – and I got my initial taste of old German folklore and history outside of Berlin.
Heidelberg continued to be absolutely beautiful from above…
…so much so that Ayline, Benedict and I strolled down into the city and had lunch out on the square.
I admit, I overdid it: a full schnitzel plate, cappuccino, and a heavy lager mixed with airport food = one TOUGH ride back through Frankfurt rush hour traffic!  😦 😦 I'd originally wanted to stay close to the city for a day excursion. Instead, I spent most of my time in Kelsterbach wandering around the tiny neighborhood looking for an open Apotheke for my stomach-in-duress.
Things I learned that day: Everything in Germany closes early, around 5 or 6pm, and there are not many commercial places to just sit, unless it's a beer or ice cream with a group of friends who never look at technology.
What I did enjoy in this one night here was a lovely couple traveling through Europe. They'd been on the road for nearly 2 months with their very bright son in tow. We talked a lot about Texas and Avengers: Infinity War before we said goodbye – by this point, I was dead tired.
Mainz
The next day I took the train into Mainz, where I'd be staying for the next week. The city of Mainz is absolutely GORGEOUS. Also small. I'd gotten lost on the way to my AirBnB and didn't realize I trekked half the city! The condo was owned by a really nice and quirky (see her décor below) lady named Birgit who stayed in the living room while I took over her bedroom. She also prepared coffee and left it outside my door every morning! 😊
I took the opportunity to waltz around a bit, using the city's main cathedral as a directional marker.  Situated at the heart of the city center, you can see this looming tower from every main road. When I finally saw it in all its glory, it was stunning:
Here, the traditional 16th-17th century roads of Germany still remain somewhat intact, surviving the damage of WWII in a way the streets near the hauptbanhof did not. Wooden beams and bright colors adorned the homes that lined the cobblestone streets. And everywhere were tourists and locals with ice cream in their hands, enjoying the warm weather and each other's company.
This slideshow requires JavaScript.
Nowhere did I see a phone or laptop out – public WiFi is a rarity, and overuse looked down upon by its residents. Here, the spirit of Germany remained firmly in its traditional roots. A part of me hated its inefficiency for an plugged-in, American, obsessed scholar like me. However, the work-weary soul in me reveled in the magic of a different world, at least for an evening.
University of Mainz
The second reason for this trip was to visit the research team of Raffael Kalisch at Johannes Gutenberg University Medical Center. It was part of a grant writing risk I took (and ultimately lost ☹) that would've given me $3000 in travel funding. For me to be eligible, the grant required me to establish an international mentor and visit their lab for one week, so who better to visit in Germany than the German Resilience Center, the Mecca of all International Resilience Research in all of Europe? 😊
I was quickly blown away by the sophistication of their work, leagues ahead of the current and scattered resilience efforts in the States. The range of their research designs span from a novel theoretical framework, and experimental investigations of mechanisms, to large-scale, observational cohort studies in the community. Their outcome variables are a wide range of fMRI to biomarker data. I also witnessed the defense of an incredibly bright graduate student and celebrated with the rest of the team:
I didn't know that imposter syndrome could recur so quickly, but oh, it did.
For a little bit we didn't know what to with me. There was a lot of work I wasn't familiar with, and after awhile I ended up just speaking with every single member of the research team and listened as they spoke about their own piece of research. One such colleague was named Elena, who despite doing animal/mice research (suuuuuper far from my own area of work), I clicked with pretty well interpersonally, and we spent the rest of my week preparing for the workshop.
1st International Spring School on Resilience Research – Seeon
Kloster Seeon was ABSOLUTELY GORGEOUS, and I was deadset on waking up at some point in the morning to snag a sunrise picture. Problem was, sunrise was around 5am, which made it quite challenging 😀 Luckily, Elena was a heavy sleeper and by this point a good friend. I got up early nearly everyday to capture this incredible view:
SUNRISE:
This slideshow requires JavaScript.
DAYTIME:
This slideshow requires JavaScript.
SUNSET:
This slideshow requires JavaScript.
Each day we sat down for a morning talks with leading researchers in resilience. For the first time I was also introduced to animal model research, which was great exposure for someone in data-world far too long. In the afternoons, we would work with 3-4 other researchers (animal- and human-researchers alike) to come up with a resilience related study that integrated our interests. Poster sessions rounded out further discussion of our work.
One night was a cultural night, where we wore or brought something that represented our culture. Before I left, I bought a contemporary alampay to wear to show off my Filipino heritage:
And naturally, I paired it with an obnoxious cowboy hat to show off my Texan roots:
The rest of the nights were spent walking or biking around Seeon, a homely little town around the lake. Luckily, there were many other German resilience researchers that I could latch onto to help me navigate the restaurants, as we were DEEP in the heart of Bavaria – it was very, very obvious that I was often the only non-white, non-German speaker in the room!
Munich
Instead of going straight back to Mainz, I decided to spend the weekend in Munich. I was a little nervous, considering I was on my own again. Unfortunately, my AirBnB host was the inflexible and unforgiving type of Bavarian – I got to his apartment twenty minutes late, and climbed five flights of steep stairs with VERY heavy luggage, just to arrive to a very long scolding about punctuality, courtesy, and disrespect ☹.
I made sure not to talk to him after that.
Besides my AirBnB host, I actually had a fantastic time.  I met with up with Sanne and Anna at Hofbrauhaus, the largest brewhouse in all of Germany.
I decided off the cuff to devote an entire dayto Dachau Concentration Camp. I'm really, really glad I did. Our tour guide was very knowledgeable, very local, and very… very… socialist, lol. I had the improbable fortune of meeting another couple from Texas on the tour – they did not like him. Surprising…
This slideshow requires JavaScript.
It is very surreal to stand in the location of stories you only heard from textbooks and in historical fiction – horrors so distanced from your reality that you realize actually happened —  right under your feet. Dachau KZ was the first established concentration camp, and thus the first/central hub of the medical horrors that occurred from the Holocaust.
The remainder of my time I spent walking all around the City Center of Munich, shopping unashamedly for European summer fashion, and also a little bit of old Bavaria as well 😊
I snuck a few pictures of dirndl and a Weste Ricardo vest and other Trachten jackets, though I didn't have enough courage (or spending money) to grab one of these awesome dresses!
One night I made my way to Englischer Gartens, a beautiful, green retreat that I wish I could've spent a leisurely jog through. Instead, I sat with the ducks and watched the sun set:
CRAZY PDA SHOUTOUT: In pure German fashion, there are few commercial places that open on a Sunday, and my only available option was an outdoor McDonald's a block away. I remember this morning so clearly because, while I sat outside sipping coffee at 8am, the rest of my friends were currently at a raging house party (~11pm) hosted by my friend Alex; many of them incessantly messaged me about the fun times I was missing out on! Thanks Andrew, Tony and Sunny for the intense FOMO!!! 😀
University of Mainz – Part II
Returning to Mainz I had a lot of buzz in my head from the week I spent in resilience world. There was so much I wanted to do, but had to tell myself I needed to get the right foundation before I did.
This time, my AirBnB was a wonderfully spacious (and vacant) one-bedroom apartment on the South side of Mainz. It was farther away from the city, but right at the edge of campus. I enjoyed this setup way more – less cramped and with a GORGEOUS view from its living room window:
I spent the remaining four days catching up with each student about additional work, and also hung out with Elena a few more times. I also took the opportunity to shop, with a lot of fashion-forward clothing that I'm SUPER glad I splurged on!
As much as I enjoyed Mainz, I could feel right around the third- to second-to-last day that I was ready to go home. I'd exhausted most of the resources that were available to share in the lab and I was also running very behind on my work at home. As sad I was to leave the beauty of Germany, I'd also missed the company of friends, particularly those that I would've liked to experience Germany with me.
Suffice it to say, I was incredibly happy to see Nathan's Challenger on the side of the road when I stepped out of DFW airport. I would spend one more weekend with him before I went back to San Diego… already June!
As most of my circle knows, my trip to the Galapagos Islands was book-ended by one of the worst possible events; not one day after I arrived back home to DFW, my brothers and I received a call that my mom's health had taken a turn for the worst. On the two-hour drive down from Dallas to Temple, we got the terrible call that my mom had passed away before we could say goodbye in person.
This slideshow requires JavaScript.
The next few following weeks were a complete blur, but I do remember feeling constantly overwhelmed. From all over the United States and even the world, my mom's extensive network of friends and family came pouring out in excess to offer their support and guidance through this difficult time. My mom had been a private person, particularly with her kids, so many of her affairs were unknown to us. One thing we did know, was the she wanted to be brought back to the Philippines and laid to rest with her family.
So, in July, that's what we did.
One of the places DJ and I were looking forward to most was visiting Banio Kreek Farms, the resort started by my Uncle George, his wife Tita Mirna, and my cousin Ate Joanna. Sixteen years ago, it had been a humble house and stairs down to the creek below. What we found when we revisited was a property eight times bigger, with every new section carefully and lovingly crafted:
We spent the day just marveling at how beautiful it was, exploring all the small and large areas. DJ compared it to uncovering the map in a FPS! 😀 We cannot wait to come back.
Following initial celebration, it was time to prioritize arranging my mom's final wishes. We spent a lot of time with my Tita Catherine going back and forth with the red tape of paperwork, but slowly started to see everything come together in the final days before her birthday and her service – July 13th. We held mass at the church right outside the family house in Chrysanthemum Village, and a reception near Manila Memorial, where my mom was laid to rest with my grandfather.
Afterwards, family time was both inevitable and necessary. For a long time, my mom was a warrior; she'd raised three kids on her own, in a city with no immediate family to help support her. It also meant she sacrificed a lot of time, effort, money, and desire to be closer to family for us. Part of that was giving up the chance to visit Philippines so often. When she died, an unexpected feeling that arose was this feeling of home that I'd lost, and not knowing where to find it. I found a piece of it here:
After my mom was laid to rest, my aunts and cousins spared no time making sure we got to visit as many places as possible. Villa Escudero was a beautiful resort and plantation south of San Pedro in Tiaong, Quezon, Philippines – the kind of place where you could stay and get what you need from a trip to the jungle. One of its best features was the restaurant right on the river, where patrons have to take off their shoes and slowly make their way across the current to the metal tables. If I could pick this area up and move it to the United States somehow, I totally would.
In their spare time, my cousins also took us out to both hidden and well-known gems across Metro Manila, including this HEY HO Garage Burgers, tucked away in a tiny village that served the most appetizing peanut butter – bacon hamburger:
Okada Manila, the massive casino that houses the largest multi-colored dancing fountain in the world and the nicest bartenders…
… among others, including Chinatown and Makati nightlife! It was great reconnecting with my cousins in a way that not afforded to us growing up.
Oh. A vain side-note interjection here. For all those who noticed, I did get my eyebrows micro-bladed while in the Philippines, which was MUCH more affordable than doing it in the States. Thanks to Bela Marana Makeup Artistry for the time she took to get them right!  I won't show the very unattractive "during" photos and instead just post one a day after they were done. They really are DARK for a few days! But like any tattoo, once the healing process is over, they look pretty natural. My morning routine has been cut down significantly, and my desire to be more active in San Diego and less concerned about my face has been well worth it.
Unfortunately, all the traveling this summer meant that I was short on vacation days. Thus, I had to leave much earlier than the rest of my brothers. Before I knew it I was packing everything up and heading back to the States. Though short, this trip was so memorable for me, as it jumpstarted a whole new outlook on my life – a new chapter, without my mom, but with support and family that are closer. As promised, our next trip will be less business and ALL vacation, including a visit to the Palawan Islands and Cebu! 🙂
Many things have happened since 2018 started, and this post has been a long time coming. Since renewing my passport last December, I've been on a travel stamp binge, starting with a trip to the Galapagos Islands in December 2017/January 2018 with my boyfriend Nathan and his awesome mom, Susan, who lovingly sponsored the entirety of this trip – first class seats and all <3.
SUMMARY: The Galapagos Islands is a biosphere and world all its own. Under the constant Equatorial sun, iguanas, seals, turtles, and flamingos flourish among the islands' many micro-climates. Wherever you are – from the chilly, foggy highlands to the dry, beautiful beaches less than a mile away – you feel like you are in another world. The area forces your head out of your phone (internet is very spotty) and toward nature and the streets of Puerto Ayora, which rely heavily on the tourism industry to keep afloat. At night, the streets open up with music, dancing, soccer, chatter, and FOOD available for anyone walking by.
DRESSING: When I first looked up what to pack, multiple pictures and lists detailing the following came up:
… most of which I did not already possess. Who already possesses safari pants? Do people really wear those sandal/shoe hybrids? And if I wore them, would my Pacific Islander ancestors point and laugh at my touristy ass?
Luckily, I found one (only one) blog from an intrepid traveler closer to my age, Courtney Scott, who insisted you don't need to dress like a tourist to be a tourist in the Galapagos.
Below are the clothes what I ended up bringing. What's bolded is what I ended up using:
Denim white shorts
Athletic shorts
Casual, multi-colored shorts
Black athletic capris
Tan lounge pants
Black thin pants
3/4 sleeve tan, breezy shirt
A thin, casual-dress shirt
White V-neck
Grey V-neck
Denim button-down
Sleeveless, blue shirt
Sleeveless, green shirt
Teva watershoes/flats
Hiking boots
Flip-flops
Athletic socks
Swimsuit 1
Swimsuit 2
Sports bra
Regular bra
Underwear (obviously)
EQUIPMENT that ended up being VERY useful:
Small, one-shouldered hikers backpack (that Nathan made fun of me for bringing)
A small, thin book – not just for reading, but to keep all the loose papers/tickets/pamphlets in place during travel
Sunglasses
100 SPF sunscreen
50 SPF facial (oil-free) sunscreen
Safari hat
Waterproof camera
Camera, floating camera stick
US cash – $1/$5/$10 bills specifically, which all locals take. Dollar coins are most popular
Buy lots of sunscreen before you leave: So, I thought my confident, Pacific-Islander-ass could handle the constant Equator sun. I was wrong. I ended up buying a large tube of over-priced ($35) 100 SPF sunscreen to protect my burnt chest and legs by the end of the first day. This move was the only reason I could wear shorts throughout the remaining part of the trip. I lathered up constantly, but it prevented any additional burn, and I ended up with a nice tan!
Good shoes: Ironically, I ended up not using my hiking boots at all, as all of our hikes were mild/moderate. I can't say enough about these Teva Hydro Life Sports Flats though, which were versatile enough to keep me comfortable across hiking trails, made for watery terrain, and chic enough to walk through city streets: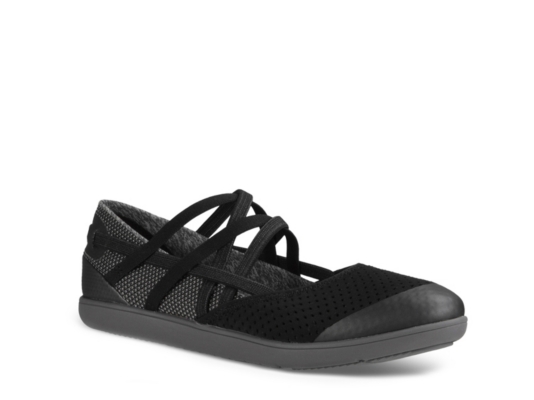 I'm beginning to realize the advantage of shoes that provide good support, not just ones that are cute and discounted but hurt like hell.
LOCATIONS
Day 1: Arrive in Balta. Travel to Santa Cruz Island and check-in at Puerto Ayora. Charles Darwin Research Station.
The Galapagos Airport is located on the old US military base on the small island of Balta, which is the driest, ugliest part of the Galapagos. Turns out that was intentional. All travelers are escorted by bus to the south edge of Balta, where a ferry waits to take you to the north edge of Santa Cruz Island. Once on Santa Cruz, you grab a taxi – small and white off-road trucks – to drive you across the island into Puerto Ayora – Galapagos' largest city. The whole experience takes about another hour of travel.
Luckily, if you managed your travel through an agency, there are guides waiting to accompany you every step of the way. Ours was Joel, who kept a lively conversation with us all afternoon. He came back once we were settled to guide us through the Charles Darwin Research Station, complete with Tortoise Breeding Center.
This slideshow requires JavaScript.
Afterward, we opted to walk through the streets of Puerto Ayora back to Hotel Albatros, which might be substandard compared to the Marriott but a luxury compared to the rest of the city. We had all-inclusive lunches and dinners, and cheerful receptionists. The hotel also had a beautiful panorama of the city.
Day 2: Catamaran. Snorkeling. Plazas Island.
This day started with a bus ride to a huge catamaran with 13 other people, followed by my first-ever snorkeling experience at the mouth of the Itabaca Channel between Balta and Santa Cruz islands. Fun story: I'd never snorkeled in my life, and instruction wasn't included in today's excursions. They gave us equipment, put us on a small boat toward a deep spot afar, and told us to jump off and swim back.
If it wasn't for Nathan warning me what it was going to feel like, I would have had a panic attack (someone else did though). Not being able to breathe through your nose is WEIRD. For the first five minutes of snorkeling, I was HEAVING while swimming next to the shore, trying to get used to breathing through my mouth, reminding myself everyone else was doing it fine, and trying not to panic when sea water got into my snorkel. Seeing beautiful schools of fish helped motivate me to keep going!  What didn't help was seeing a shark while by myself (which turned out to be harmless). That's when the panicking started. Yup. Too bad Nathan was the only one with the camera, or else my freak-out would've been recorded.
Afterward, the catamaran took us around toward South Plazas Island, where we took a short hike around a BEAUTIFUL panorama of natural color – the deep blue sea, the vegetation that turned bright red in December, and the vibrancy of the green cactus trees:
The locals were also fun to see too:
and the sheer drops of the cliffs on the other side of the island were BREATHTAKING:
After the hike, we were treated to a home-cooked lunch from the crew of the catamaran, where we also got to know the other tourists.
Day 3. Nauseating boatrides. Floreana Highlands. Snorkeling. Sea Turtles. Black and White Beaches.
This day was fully devoted to Floreana, a large island south of Santa Cruz. We accompanied a group of 13 other people on the Angelica for a day hiking atop the Highlands, lunch and then snorkeling along the coast.
To get to the island as fast as possible, the boat goes full speed and skips across choppy water, so your ass flies and then slams down constantly against your seat for 1.5 hours, making this ride the most miserable experience of the trip. Susan thankfully had Dramamine that I combined with a Tums, but holy hell I was nauseated. The Floreana Highlands were worth it though:
We had an awesome young guide named Astrid who told us of the islands' first settlers and history. She eventually led us to a beautiful beach on the Floreana Coast perfect for snorkeling, which was way more pleasurable this second go-around:
Of all my experiences, swimming with the sea turtles was probably the best part of the trip! On the return home, we tried sitting closer to the back of the boat. The sacrifice for a flatter ride were the strong fumes of gas and unforgiving afternoon sun that equaled the morning nausea. We were all grateful to be off the Angelica by the afternoon, and headed straight to a bar for a drink 🙂
Day 4. Puerto Ayora Highlands. Lava Tunnel. Tortoise Sanctuary. Puerto Ayora Nightlife.
This day was spent solely on the main island, where were we ventured around several geological phenomena in the morning, including a sinkhole and a high viewing point in the Puerto Ayora Highlands full of finches.
This slideshow requires JavaScript.
Most amazing to me this morning was the Lava Tunnel, which was a GORGEOUS underground, open passage. Easily my favorite part of the day, though accidentally stepping in a water pond in the tunnel didn't help…
Afterward, we visited another Tortoise Sanctuary with species specific to the West-side of the island, where we got up-close and personal with a few of them:
Another highlight was getting to know Adriana, our driver who spoke little English but was so upbeat and funny as hell, even when we got stuck in traffic for a marathon that blocked off the main road for an hour.
That night, I got to do what I'd wanted to do the whole trip, which was to walk among the nightlife of Puerto Ayora and get a taste of the local life. We went to a brewery, listened to live music, and walked through a community not obsessed with technology; everyone is outside, sitting in plastic chairs with friends, talking and laughing, having a beer, watching their kids play soccer, and dancing in the street merrily with strangers. I loved being a part of the local spirit, even for a little bit ❤
Day 5. Saying Goodbye. Delays. New Years Fiascos. Finally Home! 
The day we were supposed to leave, we snuck back to the Charles Darwin Research Station to observe the tortoises again, buy more souvenirs that 100% benefit the station, and see Lonely George – the last known male Pinta Island tortoise. Though he died a few years ago, he still remains an important symbol for what the research station does on a daily basis – conserve the dying beauty of this world.
Day 5.5/6. Of course, with the Galapagos such a wonderful experience, karma had to equalize somewhere. Sadly, the hour we landed in Quito Airport on the Ecuador mainland, problems began to arise – a 30-min 2-hour 13-hour 16-hour delay coupled with an inexperienced Delta flight team meant a GRUMPY introduction into 2018. We celebrated midnight getting ignored at an Outback Steakhouse while Susan was at the gate with our passports, and then finally a room in the heart of Quito, 40-minutes away from the airport, taken there by a drunken Taxi driver in rainy weather. Fuuuuuun.
After finally getting back into the States, we were greeted with a shut-down Customs in Atlanta Airport, which caused us to miss our connecting flight back to DFW, and another night stay in freezing Atlanta weather. I don't know about Nathan, but I was cheering internally when the plane finally landed in DFW more than a day after we were supposed to be home.
What transpired the next few days is a very long story all on its own, but I just want to end on how amazing the trip was. It was a stark reminder of the beauty of the world still untouched by human hands, and the responsibility we have to ensure its survival long after we're gone! ❤
I take a lot of photos, lol.
In my attempt to organize them all for those who want to see them (and avoid flooding Facebook), I've compiled them in their own respective posts, complete with mini walk-through.
Prior to my Neurotrauma conference in Toronto, Susan whisked her friend Janet, me, and Nathan away just north of San Francisco toward Sonoma and Napa Valley, the wine Mecca of America. Other than shitty cabernets from Wal-Mart, I didn't have very much knowledge of wine, but this trip helped clear some of that ignorance up, and by the end I was swirling glasses and pointing out tannins like a pro 😛 . Side note: I also found out cabernets are definitely not my thing!
Here's a compilation of that trip:
Janet was a BALLER and rented a limo to take us to three different wineries our first day. The journey took about 40 minutes, but there was a fully stocked bar (and Mama Kearns ready to pop champagne like a pro) to keep us company:
The first winery was Chateau Montelena Winery, on which the movie Bottle Shock (2008) is based. Owned briefly by a Chinese family, there were several pagodas and a jade green lake to admire, along with some fun Irish paraphernalia here and there:
The second was Castello di Amorosa, and my personal favorite of the day. The castle was BEAUTIFUL, scenery GORGEOUS, and the tour especially was led by a wine connoisseur who really talked to us and let us try more things than planned!
With all the perfect scenery, I couldn't bear to leave without a few good shots, much to Nathan's chagrin. Thanks to Susan for snapping these pics of me and Nathan:
The last winery was Inglenook Winery, owned for a time by the Coppola family. It had a  historical film technology museum to boot, and a car that looked exactly like Doc Hudson 🙂
A nighttime stroll around Sonoma Square rounded out our first romantic evening:
The second day, Susan planned an AMAZING Wine Train experience for us, complete with old-time train, a full three-course fancy meal, and three included wine-train stops between Napa and St. Helena.
St. Supery, owned by Chanel,  was my favorite of all three we visited. The tour involved a quick history of their fully ecologically-sustainable estate, and a walk through a few rows of their grapes to touch, pick, and eat grapes as needed! 🙂 Nathan also spent a lot of money to fulfill his dream of his own Panama hat too.
The second was Beringer Winery, one of the oldest in Napa. The wines are stored in caves within and under the estate, which was pretty cool, but it was by far the most commercialized of all the wineries we'd seen so far. However, I got my own hat in their extensive gift shop to complement Nathan's:
The last winery we visited was Raymond Winery, which was a quick left turn into contemporary and well… weird, at least compared to the sophistication of the rest of the trip. Roy Raymond left the Beringer Winery after it was sold to Nestle to start this place. Not sure how he feels about the eclectic taste of the place now, but it was a fun ending to the overall tour. Not only did the grounds contain a lush vegetable and fruit garden (I picked many cherry tomatoes from the vine), a shrine to their bulldogs, and a sensory experience museum, it's apparently John Legend's winery of choice (see the piano tucked away in the background), though his Chardonnay was a little too buttery for me.
The train ride back to Napa was leisurely and relaxing, and Nathan and I got to sit outside with coffee and enjoy the sun beginning to set against the Western mountain range (much greener from the coast compared to the browning mountain range to the East).
Thanks Napa! You were a wonderful, romantic getaway! 🙂 ❤
So. Life after graduate school.
A few disclaimers. It hasn't taken me 28 years to behave like an adult; nor has it taken me as long to understand personal responsibility (though some people may disagree). It mainly means that 21 years of chasing education develops some regulatory capacities (e.g., work ethic) and not others (e.g., managing and building upon savings, for instance). Aside from the hell that was managing automotive needs, here's the considerable overhaul within the areas of my life that needed, ah… improvement. Maybe they'll be helpful for other soon-to-be PhD's:
WORK: As most of my close (and newfound) friends know, my postdoctoral fellowship doesn't require me to be… well, anywhere specific, much less within the typical 9-5 pm workday. At first: bliss to hear. The department gave me a swanky new office, in a swanky new building, and then told me it was up to me how/where I'd work before my mentor left for sabbatical. For three months.
With no clinical duties or classes to teach, my primary goals are reading research on traumatic brain injury (TBI) and posttraumatic stress disorder (PTSD), writing research proposals, analyzing data, and then writing up the findings for publication. 'Tis a short list, compared to what graduate school was like. Still, formula for past success still applies:
1 laptop
access to WiFi
access to a plug
relative quiet (or just headphones and Spotify)
…and the location becomes inconsequential for productivity. Easy enough.
Ironically, I'm finding it much harder to regulate my time. Not a terrible surprise, considering the #1 reason why postdocs struggle is lack of structure. But here I was, lacking structure and thus any metric for progress. So, I devised my own plan.
Schedule a weekly meeting with my colleague/mentor Laura to discuss my progress;
Tangible writing and administrative goals I must meet each week;
It doesn't matter where I do them, so long as I go to the office more than half of my week;
I must pick up another project before a current one ends;
For me, writing time usually means a traveling office/coffee shop tour 🙂 . I've maintained this traveling-office life before in a blog about Dallas coffee-shops four years ago. Haven't yet explored enough here in SD, so this will be a blog goal for later.
So far, the schedule works. For all soon-to-be postdocs, you will probably have to come up with structure for yourself as well. I recommend finding an Individual Development Plan (IDP) that will help steer your goals. As much as freedom can be fun, one must also remember… that time should be for writing. Duh.
HOME/LEISURE: Whatever plans you make, be sure to leave a hefty reward system for your labor, particularly if you're going to live in a place you want to explore (and hope to call home) someday! So far, I consider myself lucky to have Perly, my auntie and landlord(ish), for providing a low-cost, high-end place to stay in PQ. The commute to UCSD is a breeze compared to my colleagues farther south (~20-30 min). The house is beautiful, and Perly's family is also really great. Though it's tougher to get around to explore, it's not bad now that kids are back in school, and touristy places are back to being fun locations.
Depending on your preference, meeting new people may come in hand with exploring. It has for me, depending on the experience. Meetup was a great way to dive into new areas, along with other social media outlets that tell you of good events. I've also said yes to every social opportunity that's come my way, which has helped immensely (though can be tiring).
I've also released any guilt about buying leisure books – a practice I squandered to justify other expenses in the past (see FOOD down below).
I read Unsealed in two days, which revolves around a young woman (*cough* the author *cough*) and her romance turned unconventional friendship with an almost Navy SEAL right here in San Diego. It takes an unexpected turn that, despite a few faults (psychologist-me noted some very codependent red flags), tackles toxic masculinity straight-on. For a first time author, it's a good debut, and presents beautifully the harsh line between conservative and liberal ideas of identity – a struggle I've seen too often growing up in Texas.
The second I picked up prior to my short trip to Denton. It's filled with near-therapy laced advice behind a "listen here, bub" rhetoric that's no less enjoyable. The core tenet is the same as most therapy sessions, and worth mentioning: You control yourself, and no one else. To try doing so is a disservice to you and the better fucks you could give. So achieve, fail, and make minimal progress with all you have. No one will give a fuck but you.
In a simultaneous effort to save, I've also sworn not to spend leisure money unless I'm doing so in a place I've never ventured. It's been helpful in a number of ways. Goodbye, habitual coffee run; make way for mini adventures, which I'll explore later in my next blog 🙂
MONEY/FOOD: My auntie joked with me earlier today,
"What's $4 to try something at the bakery from time to time?"
My response?
"You'd be surprised, auntie. I've had 4-page billing statements comprised of those expenses."
For me, money and food are inextricably linked, such that having one usually means I don't have the other. In graduate school, I lived off of whatever food was available around my work schedule. This usually limited me to the cafeterias at the hospital, sandwiches and croissants at the coffee shop, or the fast food restaurant right off the interstate between my commute. I tried multiple times to change: I planned grocery lists, picked out recipes, bought the groceries and stored them away.  Whatever I bought, it didn't change my hectic schedule – time was the major culprit here. Spinach would go bad, leftovers were abandoned in Pyrex containers, and Nathan began dubbing "the top shelf" as the graveyard where food rotted, or turned to stone.
In SD, where eating out is easily $13-18/meal, I'm finally stopping this bad habit. Granted, it's only sticking thanks to my aforementioned lack of a work schedule (yahoo!), but it also means having to double down on what I'm realistically going to eat. Those sped up recipe vids on FB are worthless if it's too laborious to make, or if I sadly find it disgusting. So I've had to start with this very sad, sad recovery program:
Week 1
Eating habits: Eat what I feel like (eating out included)
Tracking: Write down what I gravitated towards
Main sacrifice: Money
Week 2
Eating habits: List out all the common elements in what I ate, buy those first. This meant for me: frozen chicken, spinach, sweet peppers, avocado, eggs, bagels, cream cheese, regular cheese, bread. Don't leave house until breakfast is made/eaten, and lunch is prepared for later.
Tracking: Write down what worked. Write down the time it took to create certain things.
Main sacrifice: Time
Week 3
Eating habits: Throw out what sucked or spoiled. Return to cheaper grocery store (i.e., not Vons) with refined list of things. Wake up early enough to prepare food and still leave for work on time.
Tracking: Things I'm starting to crave instead of the boring shit I bought
Main sacrifice: Sleep / Temptation to buy new food (novelty of new diet habits started wearing off around here)
Week 4: 
Eating habits: Start adding things to refined list that you've been craving.
Tracking: Finances – the cumulative cost is probably what I'll spend per month.
Main sacrifice: Temptations, and overall carefree consumer soul
Per all existing self-control/self-regulation research (and science, really), the trick is writing everything down, so you have a metric for progress. For me, it was also important to recognize what I was giving up to make these changes; putting a face to the main obstacles helped overcome them. And that, my friends, is the science of behavior change.
MONEY/ALL ELSE: Given that my loan payments will start kicking in six months from now, I'm giving myself six months to pay off all other debts. And considering the expenses of moving, it means I'm finally creating a budget that will, to the last dollar, exhaust all my monthly income (yes, with savings included). With no part-time job to buffer my peace of mind, this means if I don't regulate well, I'll be broke the last few days of every month. My first real paycheck is coming tomorrow, so TBD on how effective I'll be here.
Whether you read this and find yourself impressed or just sending your condolences, a lot of this has been bonafide progress for me (obligatory pat on the back).  And, maybe (possibly?), this might help someone else in the process of tightening up areas of their life that have been otherwise unregulated. The true lesson is learning how to be patient between the present moment and the goal. After all, if I'm not experiencing growing pains, how do I know I'm growing at all?
🙂
It is officially one month(!) since arriving in San Diego from the comfort of Denton. For the last two weeks, I kept coming up with fun, focused ideas that could jumpstart my blog. After writing a few sentences, I'd put it away to finish later "when I had time",  or "once I got home from work". That didn't work out too well. Like the rest of my creative writing, I am very bad at finishing what I've started!
So below are my first initial thoughts the week before landing in a beautiful city of strangers. For anyone who has picked up and left – or contemplating when that day comes for work or school – these observations might resonate with you.
I learned how many clothes I had… and how much I really didn't need. I had a crap ton of clothes! They had accumulated as frequently as memories did: event t-shirts, nice dresses I'd snagged for sale, etc. Every essential piece had just enough uniqueness that I couldn't bear to part with anything. My ultimate solution was drawing a deep boundary between that which perpetually stayed in the hamper and those that I wore once or twice a semester, if that. In the end, I filled three large, gallon-size trash bags full of beautiful, sturdy, well-worth-keeping clothes, knowing they'd find good homes elsewhere. As much as it sucked, it's very freeing to be rid of the precious things you only saw once or twice.
I cleansed my life… begrudgingly. Due to miscommunication, the week-long overlap between our old 2-bedroom lease and Nathan's new 1-bedroom lease turned out to be two days. We hadn't packed anything, as we assumed we could just move things progressively. As a borderline hoarder of "still-good" things, this was probably the biggest stress of my life. With only the cubic area of a Toyota RAV4 to accommodate my new life, all nonessentials – no matter how sentimental – had to go. Purses, lamps, all office supplies (that I could've used now), kitchen supplies… everything went on the side of the street. As much as I miss a few of the things I had (and have had to replace those things once again), it was nice to see so much stuff picked up quickly by people who really needed it.
You will find out how adventurous you really are. I'd decked out my new DSLR camera, with enthusiastic ideas of wandering down untaken roads, to you know, watch the sunset right off a cliff, or visit that kitschy roadside attraction. My boyfriend and I are definitely not those people. Turns out our need to reach our goal (California) trumped stopping for even ten minutes at the world's largest whatever. My SD card only consists of car selfies and pictures of mountains… a practice I stopped after I realized just how many mountain pictures I'd accumulated by Arizona! Which brings me to the next point…
Roll with the opportunities. On the first day out, Nathan and I drove ten straight hours to El Paso, TX, the halfway point between Dallas and San Diego. Our AirBnB for the night was an old, vintage house stuck in the middle of downtown. Boy, was this thing hidden. It was smushed between an office and another complex, with the front completely covered by a wall of vines. Once inside, it opened to a fairly large house maintained by two college guys that rented every space possible… even the upstairs landing! It was hot, crowded, and only semi-clean. What saved the stay was a pretty awesome couple that invited us out. Turns out we had way more in common than we anticipated, and talked late into the night about everything. As two fairly quiet people who like our own space, we genuinely found ourselves enjoying time with people that decided to take that first step introducing themselves, whereas we wouldn't have tried.
Traffic is the same and different everywhere. You will meet the same assholes. And then worry about them spread across 8-lane highways as opposed to the mid-construction, 2-ish lanes that exist in Texas. A few differences: California does not possess access roads that continuously straddle the interstate, which makes avoiding highways… difficult. U-turns are also a common practice here, which still feel wrong.
After two chaotic days of moving, two days on the road, and two days before work, the time I could adjust bled into my first week of work. You begin to learn a lot about yourself when you're solo for a few days! More on that in Part II 🙂
Cheers!
SA
Incidentally, this stock photo serves as a fair introduction to my new life. It's also quite pretty.
This is (I believe) my third online blog, but considering the time since my last blogger update – along with how far I've come as a person since then – I've decided to start anew with a friendlier, fresher site to process my more casual thoughts… and to make room for all the academic ones I will have to produce this next year 🙂
The purpose of this blog will be to jump start old habits (like blogging and creative writing), keep my family and friends updated on events, and maybe share a fun thought or two about San Diego, mental health, psychology, or attempts at a healthier lifestyle 🙂 Regardless of the content, I do hope you find it enjoyable.
But first, I still have to sort my way through homesickness, GPS dependence, and dusting off the cobwebs of my creativity, so forgive the smorgasbord of photos, thoughts, and creative ideas! In the meantime, stay tuned for some retrospective updates as I catch up on the past two weeks.
Just for now, enjoy the meager photos of our migration across the Southwestern-Pacific border. Twenty hours of blue sky, straight road, and mountain selfies!